Boris Johnson signs Back British Farming Charter
News
•
Monday 24 February 2014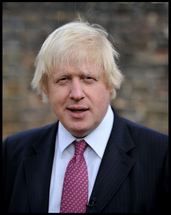 Boris Johnson, the Mayor of London, and his food advisor, Rosie Boycott, are the latest two people to pledge support for British farming. The pair recently signed the Back British Farming Charter, which has been backed by other high profile names including celebrity chef James Martin, M&S, Morrisons, Waitrose and the Co-Op.
With London's population set to grow by one million over the next decade, the Mayor said that "it is crucial that our growing capital city can be sustained with Great British produce provided by the nation's farmers".
"This is not only economically sensible in terms of creating jobs and sustaining this vital industry but also for a myriad of health and environmental reasons" He continued.
"I am pleased to back the NFU's Charter as part of my ongoing commitment, alongside the excellent work of Rosie Boycott and the London Food Board, to promote and celebrate British food now and in the future."
British farming and food is being promoted in London through the Mayor's food strategy and by the London Food Board, which was chaired by Rosie Boycott.
One of the highlights of this work was a commitment at London's Olympic and Paralympics to use food produced in the UK and to higher welfare standards.
This blueprint has created an on-going legacy by encouraging public and private sector organisations to buy more assured, safe , traceable, and sustainable British food.
NFU Head of Food Chain Debbie Cawood said "It's monumental that our capital city and the Mayor Boris Johnson not only recognises the value of UK food and drink, but has taken measures to support more local, regional and British sourcing. We hope that the Mayor's endorsement and support, along with the current work being carried out in London, will demonstrate to other local authorities how they can source more British food across the public and private sector.
"Sourcing British foods brings with it many wider benefits to society beyond great quality and variety of foods. British farming contributes to our economy, delivers benefits to the environment, provides rewarding careers as well as offers a variety of renewable energy solutions supporting our future energy security."
News