Bird flu discovered at East Yorkshire farm
News
•
Monday 17 November 2014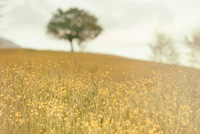 Defra has stated that a case of avian flu has been confirmed on a duck breeding farm in East Yorkshire.
They said that there is at least one case of the virus present on the farm but have also stressed that the risk to the public is "very low".
The Chief Veterinary Officer at Defra, Nigel Gibbens, has told Sky News that it is possible that this may not be an isolated incident.
As a result of the case being found, the entire flock at the farm, which consists of around 6,000 ducks, will be culled. There has also been a three kilometre protection zone put in place around the infected premises.
This protected zone means that no animals will be allowed to move in or out of the area - not including animals that are being taken away to be slaughtered to stop the virus spreading.
On top of this, a 10 kilometre surveillance zone has also been put in place to keep an eye on any spread of the outbreak.
Within both zones; people, vehicles and machinery will be disinfected when moving around farms. The movement of animals, feed and bedding is forbidden except under licence.
A Defra spokesperson said: "We have confirmed a case of avian flu on a duck breeding farm in Yorkshire - the public health risk is very low and there is no risk to the food chain.
Mr Gibbens added: "We have to recognise that the first case we find is not necessarily the first case that has occurred, which is why we put restrictions on the zone around the affected farm and look hard around there."
The spokesperson then continued: "A detailed investigation is ongoing. We have a strong track record of controlling and eliminating previous outbreaks of avian flu in the UK."
Avian flu, which is also often known as bird flu, is a viral infection that can be found in birds and in rare cases it can spread to humans.
There are 16 different types of avian flu, with the H5N1 strain being the one that is the most alarming. Luckily, Defra has said that the type of avian flu at the duck farm is H5, but not the worrying H5N1.
Once the final tests have been carried out, the exact strain will be identified.
H5N1 has killed more than 400 people, most of which have been located in southeast Asia, since it first appeared in 2003.
Public Health England is assisting Defra in the investigation of the outbreak at the farm.
A spokesman said: "Based on what we know about this specific strain of avian influenza the risk to human health in this case is considered extremely low."
News