Billionaire plans Celtic Manor organic farming project
News
•
Thursday 19 September 2013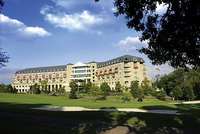 Sir Terry Matthews, the billionaire who made his fortune through his electronics empire, is now set to turn his hand to organic farming in the Usk Valley.
He is the owner of 100 acres of land and wants the valley to become a centre of excellence for organic farming, which will then supply his Celtic Manor Resort.
The idea was welcomed by Organic Centre Wales, however, there are concerns that the organic tag could exclude some good farmers.
The Celtic Manor resort on the outskirts of Newport currently spends around £10m a year on food. Therefore the Canadian-based entrepreneur has said that he wants as much of the food as possible to be locally grown and organic.
The food will then be marketed under the Usk Produce brand and he is even planning a tourism spin-off.
According to the BBC, the number of organic farmers in Wales has fallen by 20% in the last 12 months. This is due to a number of reasons, one of which is the steep rise in the cost of organic feed for animals.
Sir Terry has stated that he is concerned about this decline, however, he did also say that he felt there was still a growing movement towards using organic food.
While the project would clearly benefit his own Celtic Manor, by offering it access to an easy local supply of organic produce, Sir Terry also mentioned that the plan would benefit farmers who work on the land around it.
Speaking to the BBC, he said:"It will take getting together with all the farmers to have some sort of co-operation... and to get a brand which would be recognised.
"But I'm pretty sure we could do it.
"Already we have been encouraged to run a farmers' market and encourage a farmers' market in Newport."
Sir Terry said he would put funding into the project and would encourage his hotel's clients to also move in the direction of organic.
"It's already started," he said. "We will keep up the momentum now."
Simon Gibson, chief executive of Sir Terry's company Wesley Clover Corporation also spoke to the BBC saying: "We're blessed being in a hinterland which I think is one of the best food baskets in Britain and we don't play it up enough.
"There's the Usk Vvlley, the Wye valley, southern Herefordshire with its potatoes, fruits, and then we've got the areas around Powys for livestock production - it's an amazing place for food."
News