Big Farmland Bird Count results revealed
News
•
Thursday 17 April 2014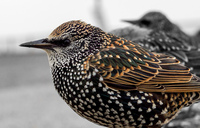 The Big Farmland Bird Count has been carried out and the results are in. Over 500 farmers from around England took part in the count and recorded 116 species between them.
The Game and Wildlife Conservation Trust (GWCT) announced that each farmer recorded the species and and numbers of birds that they saw standing in one spot on the farm during 30 minutes between the 1st and the 7th February this year.
The five most abundant birds seen during the survey were starlings, woodpidgeons, fieldfare, rook and chaffinch. Starlings were also the most common and were seen on 40% of farms.
Eleven red list species were spotted. These included corn buntings, grey partridges, house sparrows, skylars and yellow hammers.
Some farmers also reported sightings of twites, lesser spotted woodpeckers, bitterns, wax wings and great grey shrikes.
The survey also included a number of important environmental features such as hedges, woodland ponds, grass margins, ditches and trees.
Claire Robinson, the NFU Countryside Adviser, said: "It is great to see that so many farmers took part in the survey. Farmers and growers have 51,000 hectares in agri-environment schemes aimed at farmland birds, and that's just HLS. Many farmers now commit land and time to wildlife management within the industry's Campaign for the Farmed Environment (CFE). Their role is integral to supporting birds that use farm land for habitat.
"The results seen in the count were really positive showing that farm land supports many bird species, many more than the 19 species that form the farmland bird index.
"The latest data from Defra shows that wild bird numbers have been resilient over many decades, with only a relatively small decline (one per cent) in the past 40 years of monitoring.
This is the first time the GWCT has conducted the count and next year the Big Farmland Bird Count will take place on 7th to the 15th February 2015.
Adam Rowden is a writer for Farming Ads view his
Google
+ page.
News