Beet growers to receive completion bonus
News
•
Monday 04 March 2013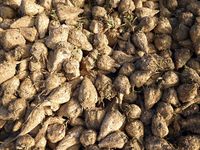 After months of meetings, the NFU and British Sugar have announced that they have come to a conclusion regarding a contract completion bonus payment for beet growers.
So long as they end up fulfilling their contract, growers will be eligible to recieve £1.50 per tonne on their 2013/14 contracted tonneage. The bonus will be paid following the 2013/14 campaign and it will apply to both Contract Tonneage Entitlement (CTE) and Industrial Tonneage (ICE).
NFU Sugar has been highlighting to British Sugar for some months the difficulties of this year's campaign and the significant loss of confidence among growers. Growers have faced challenging crop conditions and beet factories have had multiple performance problems resulting in a long campaign, further compounding problems on farm.
NFU Sugar Board chairman William Martin said: "We welcome the agreement reached with British Sugar today which represents a positive first step in helping restore growers' confidence in British Sugar's commitment to UK growers."
The additional payment will not be made if there is a shortfall against contracted tonnage.
News