Beef farmers can benefit from using ultrasound
News
•
Wednesday 19 June 2013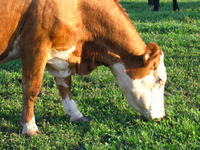 In order to identify superior cattle and improve carcase conformation, beef farmers are being encouraged to use ultrasound scanning.
The Ultrasound Scanning Beef Cattle booklet has been produced by Signet Breeding Services, which is a part of EBLEX. It highlights how it can help producers better assess the carcase quality of their cattle by measuring fat and muscle depth in the live animal. All of this information is then used to identify the better breeding lines.
Since ultrasound scanning was introduced in the UK in 1987, we have seen major improvements in the quality of carcases. Research has also shown that the selective breeding for muscle depth across the loin can greatly enhance total muscle yield.
Shane Conway, Signet breeding specialist, said: "Ultrasound scanning enables accurate measurements to be taken of muscling across the loin.
"Ultimately, to improve carcase conformation, you need to measure it and that information can have an impact on the producer's bottom line.
"Our new booklet explains the benefits of ultrasound scanning, the procedure involved, answers to some frequently asked questions regarding the service and the contact details of our ultrasound technicians."
For a copy of the booklet please contact Shane Conway on 024 7647 8721 or email [email protected] The booklet is also available on the Signet website.
News