Baked beans could be grown in the UK soon
News
•
Friday 06 September 2013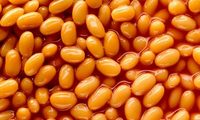 Scientists at the University of Warwick are using the latest DNA mapping techniques to allow British farmers the chance to grow their own haricot beans.
Not heard of a haricot bean? Well, that is the common name given to the navy bean (Phaseolus vulgaris), which is the bean that is used in baked beans.
We love baked beans here in the UK, however, we import most of them from Canada. This is mainly due to the fact that there is a lack of available navy bean varieties that are adapted to growing in the UK climate.
In order to attempt to adapt these beans so that they are capable of growing in the UK, the scientists at the University of Warwick Crop Centre, have launched a research project that will make use of the latest DNA sequencing technology. They will use this technology to begin to map the genes that govern the traits required for the navy bean to thrive in the UK climate.
This research will then be used to breed new varieties of these beans that are better adapted for growing in the UK.
Professor Eric Holub and Dr Guy Barker are supervising the research, which is being carried out by PhD student Andrew Tock. Professor Eric Holub told the National Farmers' Union official website: "The ultimate aim is to produce a navy bean which is less sensitive to cold soil in the spring, is resistant to common diseases that occur over the summer in the UK, and is also ready for harvest in early September.
"A shortened growing season is most important as navy beans in the UK have to be harvested in September when it is still dry to avoid autumnal damp weather which causes them to discolour.
"Using next-generation DNA sequencing technologies, we will improve the ability of bean breeders to select new varieties by effectively providing a genetic roadmap for locating useful natural variation of desired genes in the bean genome.
"We hope in the near future to begin working in partnership with UK farmers to begin testing whether experimental lines are more suitable for bean production in British growing conditions."
This is the first time since the 1980s that the UK has seriously looked at developing a British navy bean.
News