Badger cull trials could be moved to new locations
News
•
Tuesday 08 January 2013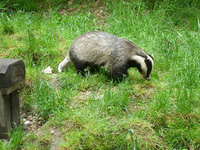 Badger culling in West Somerset and West Gloucestershire were aimed at finding a way to stop the spread of TB in cattle. They were set to begin the pilots last autumn, however, they were postponed when it was discovered that there were more creatures than originally thought.
Now, the farming minister David Heath has admitted that the delay may now lead to other areas being chosen for the badger cull pilots instead.
Mr Heath spoke to ITV News saying: "Whether that [the application to cull] will be in the same areas, it very possibly could be, or whether that will be in different areas, that will be for them to decide in due course. We will wait to hear from the NFU and the farmers involved as to whether they want to stick to their original plans or want to change them - that's their decision."
The two original areas do still have their culling licences that were issued by Natural England, however the NFU president Peter Kendall, said that alternative regions will be considered.
Areas with the highest chance of success are being looked into and Derbyshire, parts of Devon and parts of Cornwall are also under consideration as alternate locations.
Speaking to Farmers Weekly, Mr Kendall said: "We are talking to other areas about their strengths. If something went wrong in one of the original areas we want to ensure that we have got really strong alternative regions ready to go.
"We don't know yet whether someone will drop out, so we are making sure that we have got the best possible areas ready to go at the best possible times."
According to Mr Kendall, a number of farmers from many regions have been contacting the NFU suggesting their regions would be suitable for culling.
According to the NFU the earliest that the delayed cull can begin is 1st June 2013, because a closed season for culling is currently being observed. The closed season for culling is designed to prevent distress to badgers or their dependent offspring.
In November, the NFU requested to DEFRA the opportunity to postpone the badger culls until this coming summer in order for farmers to be fully prepared when the cull begins. They wanted more time to prepare so that the cull would be successful when carried out and DEFRA agreed to the request.
The cull was postponed at the last minute after a survey of the badger population found that numbers were twice as high as expected in the two pilot areas.
As a result, the NFU said it could be certain that trained marksmen would be able to remove the required minimum of 70% of badgers in each cull zone to ensure the cull was successful.
News