Are high house prices in rural areas putting young people off going into farming?
News
•
Wednesday 10 July 2013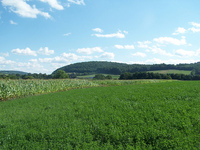 Could it be that the lack of affordable housing in rural areas is putting youngsters off heading into the farming industry?
This is a warning that has been put forward by the Westcountry chairman of a Government taskforce.
Yesterday, 9th July, a review was published by farming, business and education leaders, which concentrated on the barriers preventing youngsters from forging a career on the land.
The Future of Farming Review group is aiming to shatter the image that farming is a low-skilled industry with limited opportunities. And, one of their main issues is the problem surrounding rising house prices in rural areas - evident across Devon and Cornwall, where farming as a mainstay industry.
David Fursdon is a Devon landowner and former president of the Country Land and Business Association. He is also a member of the South West Rural and Farming Network and is the chairman of the Future of Farming Review group.
He spoke to the Western Morning News saying that "new blood" is vital if British farming is to survive the challenges of the 21st century.
"Young farmers are the ones that bring in the innovation. The new skills. The new ways of working. Agriculture needs the new blood. At the moment it is being choked off," said Mr Fursdon.
He also mentioned the Addington Fund, which is a farming charity that provides affordable housing for those who work in land-based employment in Cornwall, stating that this is one way to counter the issues of young people being priced out of the countryside.
Mr Fursdon also went on to mention the fact that the current heatwave is following one of the most destructive winters that UK farmers have faced in recent times.
He underlined that these "fluctuations" in the climate are making it tougher and tougher on the UK's farmers.
He said: "At the moment farming is getting by. It is pretty much touch and go. You see fluctuations. We need to have the right people to tackle that. Globally we need to produce more and more food. And the UK needs to produce more of it because it is a relatively benign environment."
The Future of Farming Review group was brought together by Farming Minister David Heath in January.
The Department for Environment, Food and Rural Affairs said the group has "set out the cultural change needed to enable forward-thinking entrepreneurs to thrive in an industry which is modernising, innovative and embracing new technology".

Source: ThisisCornwall
Picture:
Andy Arthur
News