Annual Spring Photo Competition
News
•
Monday 23 March 2015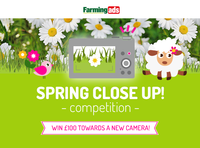 Spring is now upon us! This must mean, clear skies and sunny days! And if that doesn't brighten up your spring time, maybe our annual Farming Ads Photo Competition might? We want to celebrate the arrival of spring once more. We are giving away £100 for one lucky individual to put towards a new camera in our Spring Close Up competition.
Our annual Spring competition is here and it could be your chance to win!
So what do you need to do?
All you need to do is take a photo of what you feel best captures the British springtime. Then, you just visit our website, upload the photo on our competition page and enter your details!
It really is that easy!
Your photo will then be added to the entries list on the site. The Farming Ads team will then select a winner when the competition closes on the 18th April 2014.
We had plenty of fantastic entries last year, so why not get your camera out, get outdoors and get snapping?
Click here to enter the competition.
This year award winning and world renowned photographer Andy Rouse will be judging the competition and choosing this years winner
News