Animal Aid calls for farms to reveal number of animals that die before slaughter
News
•
Monday 01 December 2014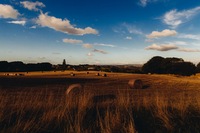 A report published this week has reported that over 40 million farm animals are estimated to die each year in the UK before they reach the slaughterhouse.
The report was published by Animal Aid, and is called The Uncounted Dead: Farming's Unofficial Victims.
Animal Aid, who are an organisation against meat eating, is aiming to put a figure on the number of animals that die before slaughter.
Currently, this figure is unverifiable because the government and the industry collates or publishes data on animal fatalities.
Farmers are only required to report on the deaths of animals on their farm, if it is caused by a notifiable disease, such as BSE or foot and mouth.
Over 989.6 million farmed animals were slaughtered for meat in the UK last year. 2.6 million of these were cattle, along with 10.3 million pigs, 14.5 million sheep, 17.5 million turkeys and nearly 945 million chickens.
Based on the percentages of animals that do not make it to slaughter, Animal Aid has estimated that 250,000 cattle, 750,000 pigs, 750,000 turkeys, 2.5 million sheep, 38 million chickens and 600,000 rabbits, ducks and geese, die each year before they are slaughtered.
The total estimate is that 43 million farmed animals die each year before they can be taken to slaughter. Their deaths can be caused by anything from starvation, disease and exposure, to fires, floods and neglect.
In the report a number of cases were cited, one of which was an incident where 700,000 chickens were drowned last December in sheds on two Lincolnshire farms that were hit by a massive tidal surge.
Andrew Tyler, the director of Animal Aid, has admitted that his organisation was is opposed to meat eating and that they had an agenda when producing the report. However, he went on to suggest that all consumers had an interest in animal welfare.
When speaking to the Guardian he said: "Whether people are meat eaters or vegetarians, it will surely be of concern to them that millions of farmed animals perish every year as a result of fires, floods, road collisions, disease and neglect.
"Moreover, these casualties, whose deaths are often traumatic and agonising, receive virtually no official recognition. No figures are published pointing to the true scale of the phenomenon and there are scant regulatory measures in place to reduce, for instance, the incidence and impact of farm fires and flooding."
Head of food and farming at the NFU, Phil Bicknell, said that UK farms were already subject to stringent compliance visits.
He said: "I think it's fair to say that the UK has some of the best welfare standards and health status of most other countries in Europe. Ultimately, it is not in a farmer's interest to have high farm mortality as it clearly impacts on the farms' profitability."
He also said that he did not believe that farmers should be collating the number of animals that die before slaughter, stating that his organisation is attempting to get the government to address the issue of red tape on farms as opposed to increasing it.
News