Amazing new Twitter account proves extremely popular with UK farmers
News
•
Wednesday 12 March 2014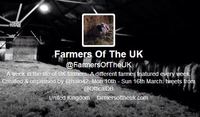 A new twitter account has been set up which is handed to a different UK farmer every week.
The fantastic idea was the brainchild of Simon Haley of @AgrichatUK, and it is proving very popular in the farming community.
The account, called @FarmersOfTheUK, features a week in the life of a different farmer every week and highlights the wide variety of challenges and day-to-day activities that farmers in the UK face.
It has already amassed nearly 6,000 followers after being launched in January, and is well worth a follow.
Speaking to the NFU, Simon Haley said: "The response from both those within the farming community on Twitter and from consumers has been amazing. I have already booked up every week on the account with a different farmer for the rest of the year.
"This is fantastic as it shows farmers are realising what a great platform it is to not only promote the industry but also to showcase their business."
Followers of the profile have so far been taken through a vast array of farming activities from lambing to spring drilling and much more.
Later in the year they will also be able to see more different sectors of farming get their turn as herbs, flowers, arable, dairy, turkeys and farm diversification take the helm.
This week, the farmer in charge is David Burden who is a beef farmer from Kent. He has already tweeted plenty of cracking pictures and comments from his farm on the process of calving, explaining what makes up the feed and the equipment he uses.
See below for the fantastic live updates of David Burden's calving experience.
The account is drawing interest from all around the country and even has some celebrity followers including Dermot O'Leary and Julia Bradbury.
"The account has one objective - to allow an insight into farming behind the farm gate, and one that is real and honest and emotive. So far, it is definitely achieving that and much more," said Simon.
News