Agricultural workers' wages at risk after abolition of AWB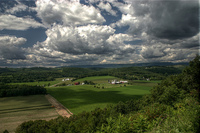 Union leaders are warning that unscrupulous employers may take advantage of the recent confusion surrounding the scrapping of the Agricultural Wages Board last Tuesday.
The AWB rates will still be legally binding until 1st October, however, Unite fears that farm workers could be short-changed.
The team at Unite is urging farm workers to make sure that any 'rogue' employers don't avoid paying AWB rates.
Over 150,000 agricultural workers are to be affected by the coalition government's decision to abolish the AWB. The AWB has set the pay conditions for those individuals working in agriculture, horticulture and other rural industries, for decades. However, from 1st October 2013, these rates will be replaced by the national minimum wage.
Unite has warned that this change, could lead to pay cuts for thousands of workers, which they feel could deepen rural poverty.
In order to clamp down on rogue employers, who might look to exploit the abolition of the wages board, Unite will be setting up a 'wages watch' unit.
Diana Holland, Unite assistant general secretary for food and agriculture, has warned against unscrupulous employers looking to exploit the confusion surrounding the Agricultural Wages Board's abolition.
"This is a dark day for rural workers who have been hung out to dry by a coalition government intent on taking rural communities back to the Victorian era," she said.
"Where Unite members suspect their employer is trying to exploit the confusion around the abolition of the wages board, they need to contact their local union office immediately. Right up until 1 October, overtime, grades, holiday pay, and the many other conditions covered by the Agricultural Wages Board are still law. And after this date, we are absolutely clear, there is no requirement on any employer to worsen conditions for any worker.
"We will ensure that employers respect the letter of the law and treat people fairly, even when the protection of the wages board no longer applies as a result of the government's heartlessness. We will continue our fight for justice and protection for rural workers."
Tractor driver Steve Leniec, who chairs Unite's national committee for rural and agricultural workers, said: "For workers who are not yet union members, now is the time to join. Our industry is facing a time of massive uncertainty and upheaval because of abolition, and it is us, the workers, who will bear the brunt. Joining Unite means Britain's biggest union will be on your side."
Unite is continuing its campaign for justice and protection for farm workers, with negotiations with Labour's shadow agriculture team, and with a challenge to the European Court of Human Rights.
News