Agricultural Wages Board transitional period begins today with new terms and conditions for workers
News
•
Tuesday 01 October 2013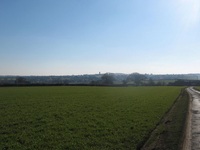 Today is the day that the way agricultural and horticultural workers in England are governed will change. New terms and conditions are being introduced following the abolition of the Agricultural Wages Board earlier this year.
The NFU has therefore released a statement aiming to ensure that as many farmers and growers as possible are aware of the changes.
Agriculture will now be on a par with other sectors of the economy when it comes to employment issues. The restrictions of the Agricultural Wages Board are now lifted, which means the new terms and conditions for these workers will comply with wider employment legislation.
The terms and conditions will now no longer be bound by, what some people view, as a ridig framework imposed by the older legislation.
The NFU chief economist Phil Bicknell said: "For many in the industry, this will just be another working day, given the accrued rights of existing workers. Nonetheless the industry needs to be aware of the changes, and the NFU is committed to support members' post-AWB.
"An Employer Information Pack is now available for NFU members, which combines an array of information relevant to farm employers, from Frequently Asked Questions to 'how-to' guidance."
You can register yourself for the 'Post-AWB Information Pack' here or by contacting NFU CallFirst on 0870 845 8454.
News