Agricultural students using social media to send aid to flood hit Somerset
News
•
Tuesday 18 February 2014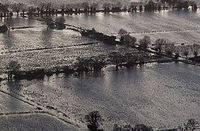 Farming students from the Royal Agricultural University have been working hard on social media to get aid to farmers in Somerset who have been affected by the recent flooding.
They have rallied to a call made on social media by one of their graduates and are supporting the #forageaid and #clubhectare campaigns, which aim to send essential supplies to the Levels.
The students have been collecting and delivering a number of supplies to farmers including straw, silage, animal feed, wellingtons, waterproofs and fuel.
Andrew Ward, who has been coordinating the #forageaid scheme, said: "When the flooding occurred in Somerset it was natural to resurrect the #forageaid initiative to help the farmers in Somerset. The scheme is so well known now that there have been tremendous offerings of forage from all areas of the UK. A considerable amount of these donations have been hauled to Sedgemoor market by Tesco."
Andrew has been working with the RAU and its students, who have been showing their support by delivering essential supplies to farmers in need.
Tom Warren, studying BSc (Hons) Agricultural Management at the University, has been involved in the national #forageaid flooding appeal since it began. He said: "I was inspired by the idea of #forageaid and decided I wanted to be involved and offer my support. I've been ringing round lots of companies and asking them for straw, silage, and most importantly haulage to cover it all. It's about supporting the farming community, and pulling together to provide aid to those who need it most.
"The most important thing is to keep the aid going. It's vital now, and it would be great if everyone could donate anything they have to spare, but it's also important to remember that it needs to continue for the weeks, and months, ahead. I'd encourage anyone that wants to donate to consider future pledges, offering donations of straw, bedding, and silage that can be taken up in the future."
Chris Brough is an RAU lecturer in Animal Production Management, and has been helping to coordinating the students' involvement. He said: "The students' response so far has been very impressive. With strategically intelligent use of social media they have mobilised and generated a network of families and friends; their actions are borne out of an inherent responsibility to the industry and farming communities to provide not just empathy but direct physical actions and support. This has manifested itself in offers of physical and logistical support to provide all manner of supplies to maintain the health and welfare of livestock."
Melanie Squires is the NFU regional director and she has described the response that they have received as "magnificent" and offered "huge thanks" for all of the support they have received.
However, she did go on to state that they now need is pledges of fodder and straw, as opposed to the actual deliveries. This would mean that the farmers could call upon the generosity of others as and when it is required over the coming weeks and months, when the waters finally abate and the farmers return to face what is sure to be an awful swamp.
News