2,000 to sit down for a British beef dinner in world record attempt
News
•
Tuesday 02 July 2013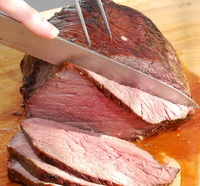 British farmers will attempt to break a world record as they gather up around 2,000 people to tuck into a British Red Tractor beef dinner.
The Guinness World Record-breaking attempt will be hosted by Ladies in Beef later this year. They will attempt to showcase the best of British food and raise funds for the Royal Agricultural Benevolent Institution, which provides relief for farming families in times of difficulty.
A number of farming organisations, including EBLEX, the NFU and RABI, have all supported the event, which has also been backed by retailer Asda.
The event will take place on 10th October at the Bath and West Showground, near Shepton Mallet.
Peter Kendall, the NFU President, has said that this would be a great way to raise the profile of British beef and he also stated that he wishes this record-breaking attempt the best of luck.
Speaking to the NFU official website, he also emphasised that it was a chance to highlight the more serious issues such as the good work that RABI does for those farming families that are in need.
He also spoke about the importance of raising the profile of British beef.
"Raising the profile of British beef was outlined in the NFU's vision for the beef industry, launched at the Livestock Event less than a year ago," he said.
"A lot has happened since then but the fundamental challenges within the sector remain the same - tight global supply, production challenges and a lack of future support from CAP," he said.
"In order to build a sustainable supply of UK beef, it's clear the whole trade must work together to send out the right signals. We must incentivise beef production, particularly from the suckler herd, to encourage farmers to sustainably build supply and to ensure we have a productive and thriving industry in this country so people can enjoy quality British meat on their plates."
EBLEX chairman John Cross, said: "Suckler beef production is a vital part of our beef production system. It not only gives us a high quality product renowned throughout the world and sought out by consumers at home but it also helps shape our landscape, giving us our wonderful countryside that we all appreciate so much.
"In many cases, suckler beef herds utilise grassland that could not be used to grow crops. They therefore help turn something that humans can't eat, namely grass, into something they can eat - quality beef. The image of our traditional beef systems is something that is recognised across the world and helps tremendously when we are exporting our quality product."
News