Charolais bull sells for over £100,000
News
•
Thursday 18 April 2013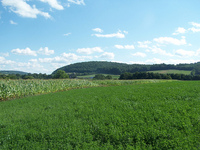 A farmer from Kent has recently sold the most expensive Charolais bull in the world after a private American firm paid £105,000 for Vexour Garth.
Ray Firminger, the farmer who raised Garth, has hit the big time after his 1,000-kilo bull was sold at auction last autumn.
Speaking to the BBC, Mr Firminger said: "Economics is at the back of it, there's no denying it.
"They haven't bought him just for his looks. They bought him for his resale price, if you like to think of him as a commodity. His resale value is very high."
In recent years, at auction houses around the globe, investors have been showing an ever increasing appetite for buying pedigree cattle and sheep at premium prices. And because of this a number of world records have been tumbling.
Last year a Texel ram was sold for £231,000 and a lamb was sold for £9,000 which equalled the breed record.
But why are people prepared to pay such large figures for these animals?
Well, the investors are hanging all of their hopes on these animals being top quality sires, which would produce large cows and sheep with high quality meat that is very lean or even large yields of milk.
Philip Halhead, the chairman of the British Cattle Breeders Club, spoke to the BBC about the sale of Garth saying: "I imagine the American investors who bought Vexour Garth are looking to sell his straws of semen for between £50 and £100 per straw.
"To put that in context, every 10 days to a fortnight in the bull-stud Garth should produce 500-1000 straws of saleable product. So do the maths.
"It's not always that every bull produces high quality semen. That's still the gamble they've got to play with. But if it pays off, they will see a massive return on their investment."
For more on Garth and the growing trend of highly priced cattle and sheep, click here.
News