British farmer heavily involved in Polish GM land debate
News
•
Tuesday 05 February 2013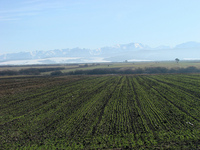 A British farmer is at the forefront of a campaign which aims to stop the Polish Government selling off land to companies which are looking to grow genetically modified (GM) food.
Sir Julian Rose, the President of the International Coalition to Protect the Polish Countryside (ICPPC), said that plenty of 'prime' Polish agricultural land was being sold off to multinational companies.
He also stated that the Polish Government was still allowing the trading of GM seeds even though it has banned the planting of them. He said that they were allowing the trading of the seeds in compliance with a European Union directive calling for GM planting to be permitted in 'special designated areas'.
His statements were made after farmers used tractor blockades in protests across Poland.
Sir Julian, who farms in South Oxfordshire, took his tractor onto the streets of his local town on Saturday in support of the Polish farmers' resistance.
Speaking to the Farmers Guardian he said that it is 'crucial' that we work hard to ensure that farmland should remain in the hands of genuine farmers and isn't sold-off to giant international corporate companies whose sole motives are 'power and profit'.
He went on to say: "It's in all our interests to stand in support of actions that resist the planting of transgenic laboratory foods that cannot be prevented from cross contaminating other crops."
This Thursday (February 7) Sir Julian will deliver a letter to the Polish Ambassador, Witold Sobkow, in London, calling for three main action points.
The action points are:
Stop the selling-off of Polish farmland to foreign multinational corporations

Ban, by an act of law, the planting and trading of GM crops in Poland

Remove regulations that inhibit and prohibit the sale of made-on-the-farm produce to local outlets
News