£600k government package to help Isle of Wight farmers after snow
News
•
Tuesday 04 June 2013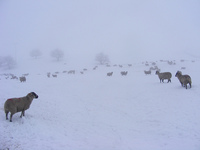 A new £600k government support package has been proposed to help farmers on the Isle of Man who lost livestock due to the extreme snowfall in March.
According to the BBC, the island's agriculture minister, Phil Gawne, announced the details of the scheme, which would work on a sliding scale.
Mr Gawne, who is a member of the House of Keys, said that 100 farmers could benefit from the money and he also went on to state that his department was working with the farming industry to develop the scheme in more detail.
Around 15,000 livestock, made up mostly of sheep and cattle, died as a result of the island's worst snowfall for 50 years.
Speaking to the BBC, Mr Gawne said: "There will be a sliding scale with the farmers who suffered the highest percentage of losses receiving the largest percentage of support."
The Agricultural Development Fund will supply the money over the next two years and the Treasury will also top it up.
Any farmers who will not be eligible for direct support will be able to apply for low interest loans.
The proposals will be brought before Tynwald in July and if approved the funds will be made available during August.
Unfortunately the snowfall this year, coincided with the lambing and calving season and farmers are still "counting the cost of the disaster" according to Mr Gawne.
According to the Isle of Man government, the impact of extreme weather will cost the farming community over £1m.
The snowfall in March was the heaviest since 1963 with the worst hit areas on the west coast. This was an issue for the island as around 90% of the Isle of Man is given over to agricultural production with around 450 farms, some of which have thousands of animals.
It is estimated more than 10% of all the sheep on the island died as a result of being buried in the snow, although some farmers may have lost in the region of 70% of their stock.
News