£12,000 reward offered by farmers to find bird of prey killer
News
•
Friday 11 April 2014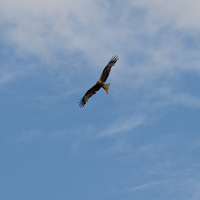 A group of farmers in the Scottish Highlands are offering a reward for information about the killing of birds of prey.
The group of 15 farmers are offering a reward to the tune of £12,000, which matches that offered by the RSPB after 13 red kites and four buzzards were discovered dead north of Inverness in recent weeks.
Tests revealed that several of the birds had been poisoned and the reward was then offered and will be paid for information that leads to a successful prosecution.
Jim Whiteford, the NFU Scotland regional board chairman for the Highlands, was horrified and disgusted at the incident.
He spoke to Farmers Weekly and spoke of how he was 'heartened' by the news that a group of farmers and landowners have been so generous in donating towards the conviction of the person who has been responsible for the deaths of the birds.
He also said that he would urge anyone who may have any information regarding the incidents, to contact Police Scotland on 101.
Alex Matheson is one of the landowners involved in collecting the money for the reward. He is from the Brahan Estate, which operates a red kite centre in partnership with the RSPB.
Mr Matheson also spoke to Farmers Weekly saying: "We have been appalled by these tragic and senseless bird deaths. By pulling together as a community to do all we can to help, we want to send a strong and clear message that any form of wildlife crime is totally unacceptable. We would urge anyone who has any information to come forward."
The police are working closely with the RSPB, experts from the Scottish Agricultural College and the Scottish Society for the Prevention of Cruelty to Animals in order to investigate the deaths.
Adam Rowden is a writer for Farming Ads view his Google+ page.
News