£10,000 up for grabs for next Farmers Apprentice
News
•
Wednesday 04 June 2014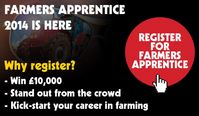 The Farmers Weekly Farmers Apprentice competition is back this year, and it will see £10,000 up for grabs for one lucky young farming hopeful.
This competition first took place in 2012 and is back this year to entice more young people into thinking about moving into a career in agriculture.
Young people with business acumen, a love of technology and a passion for being outdoors are being encouraged to get involved as they might just have what it takes to win.
There are currently 60,000 jobs to fill in the agriculture industry in the next 10 years, and the competition is searching up and down the country for individuals with key business skills from inside and outside farming.
If you have completed a business management degree, or you've been working in a factory or farm, you might just have what it takes to head on over to the bootcamp. Once there, you will take on farming's toughest tasks to win the coveted prize.
To enter you must be between 18 and 25-years-old and should post a 60-second video telling the team at Farmers Weekly why you should be the next Farmer's Apprentice.
George Eustice, the Farming Minister, has endorsed the competition saying: "Campaigns like the Farmer's Apprentice are an important part of how we promote the industry as an attractive career choice and I fully support it.
"There's a range of careers available across the agricultural industry from farming and engineering, to marketing and science jobs. With the industry contributing £9 billion and 450 thousand jobs to the economy, it's vitally important we invest in its future to ensure the sector continues to grow.
Adam Rowden is a writer for Farming Ads view his
Google
+ page.
News