News
•
Thursday 19 March 2015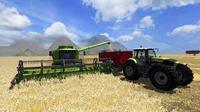 Farming Simulation Games
Tending to your livestock in the morning and smelling the fresh air upon stepping on to your land, there is no other feeling like it, wouldn't you agree? You know that your work that day will reach thousands of people and feed millions, if it wasn't for your job.
So what effect and reward do you get from playing a farming simulation game? Whether its managing your livestock, driving a tractor or wrapping silage. Playing a simulator game can now replicate these everyday activities on your computer monitor.
But who is it that would be interested in playing these games? And why would an individual play them, when they can put their energy into doing the real thing?
Dale Chapman is 18 and lives in Helston in Cornwall. Dale works as an IT technician but has grown up living on a farm. He and his farming friends started playing Farm Simulator when they were at school.
"When we get home from work we all get together on a group Skype call, one of us will set up a game and we'll play for hours.
"It's sociable like that and we can all use our farming knowhow in the game.
"Farm-Sim acts as a sort of release. Because I work in IT I don't get as much time as I would like working on a farm, not as much as my friends anyway.
"It's all about the variation and the mods (the modifications - i.e. vehicles, trailers, maps, etc. that are made by the gaming community) that are available too.
"I've designed a tractor in the game that is pretty much exactly like the one that we drive on my friend's farm.
"I just love farming - it's one of those things that's just in the blood."
Arguably people might say that these simulators are another way to forget the stress of their everyday jobs and let's face it, who wouldn't want to be a farmer!
Other simulation games can simulate anything from driving a truck to building a city.
Do you play farming simulator games? If you do, please get in touch.
Reference to bbc.co.uk
News