Turkey care guide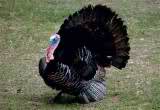 Around 90% of the UK's turkeys are reared in standard production systems in large, purpose built sheds or converted farms, which are similar to those used to rear chickens. The RSPCA has said that up to 25,000 birds can be housed in one building.
However, you may not want to house that many turkeys. If you are rearing these birds for meat, or you are simply looking for a different and interesting pet, then you may want to check our guide on how to care for turkeys.
It is important that you follow our advice carefully to ensure that your turkeys have nice living conditions and aren't suffering or uncomfortable. So, here is our Farming Ads guide to caring for turkeys.
Housing your turkeys
In order to ensure that your turkey is living in decent conditions, you will want to offer the birds a good home. A turkey will need around six square feet of room each. You can leave the animals in a garden or yard, however, you will need to be aware that there are predators around and you should always offer the birds somewhere to hide from potential predators. Wherever you decide to place your turkeys, be sure that there is nothing hazardous in the area.
Wood shavings are perfect for turkey litter. Sawdust and newspaper are not appropriate as they can cause harm if the turkeys eat it or slip up. Turkey litter should be scooped up in the same way as cat litter would. If you decide you prefer to look after turkeys inside, provide fine gravel or sand. Turkeys outside will take care of that themselves.
Feeding turkeys
When it comes to feeding your turkeys you will want to remember that it isn't too different from feeding chickens. These birds both require a starter ration, followed by a grower ration and a maintenance diet once they are fully matured. However, turkeys have a far higher protein requirement than chickens and most chick feeds will therefore be unsuitable for turkey poults. If you do feed your turkey poults with chick feed then you could end up with turkeys that have growth problems.
If you are rearing these birds from eggs, then you must ensure that newborn turkey poults feed and drink as soon as possible after they have hatched. You will also want to observe the birds to ensure that they can locate their food and water.
After five to eight weeks on the starter diet, most turkeys can be gradually transferred onto a Grower/Finisher ration that has a lower protein content of around 20%. If you are rearing turkeys for meat then you can keep them on this diet, however, if you are rearing birds for breeding then a different diet will be needed when they hit 18 weeks.
When the turkeys are fully matured, you will want to put them on a maintenance diet of around 16% protein. However, again, if you are rearing breeders, they should be introduced to a breeder ration around six weeks before the breeding season. .
Caring for young turkeys
Turkey care for young poults will require more than caring for turkeys that are older. Keep a heat lamp near the floor by the young. The temperature should be set at around 38°C, then lowered by a couple of degrees each week from then on.
Ensure that when caring for turkeys they know where their feeder and water is available. If they do not know this they could accidentally eat litter. Adjust the height of feed and water according to the turkey's growth.
Getting started
Firstly you will need to decide on the breed of turkey that you want to farm. Different turkeys are better for different things, Heritage turkeys are very slow growing but extremely delicious whereas the Broad Breasted Bronze turkey is fast growing as their bodies have been genetically altered to produce more breast meat.




In the spring you can buy day old turkeys that are cheap and easy to look after.




You should select some males and females so you can breed from them in the future.




The next step in turkey farming is to set up a brood. You can make one out of a children's paddling pool if you put wood shavings in the bottom.




You will need to place some infrared lamps above the brood so the temperature stays at about 95 to 100 degrees Fahrenheit.




Once a week raise the lamps up higher to that the temperature drops by about 5 degrees.




You will need a large water and food container for every 25 turkeys you have.




Make sure you use game food that is about 30% protein.




After a couple of weeks the turkeys will be increasing in size and you will need to move them out of the pool and into a larger pen for four more weeks.




Mount a branch inside about two feet off of the ground, no higher, so when the turkeys start sitting on it you know they are ready to roost.
Articles