Alpaca farming– How to farm alpacas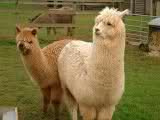 Alpacas make wonderful pets, and they also have beautiful fleeces, which can be sold. This makes farming alpacas well worth doing and it can also be quite a fun and interesting project. These are hardy animals and are also very efficient grazers. Their efficiency means that you really can maximise the use of small acres or other pasture that is otherwise unproductive.
When farming alpacas you only need to supply the pregnant females and growing cria with a handful of high protein feed per day. Otherwise, you will only need to leave them on good pasture at a stocking rate of five to eight animals an acre.
Alpaca fleece is lighter and warmer than wool, however, it is also stronger and far more durable. Their fleeces are bright and stunning and are usually from 16 microns upwards. These fleeces also have a nice velvety handle.
Their fibre is also high quality and fine. It has a fineness that is likeable to cashmere, however, it is also far more hard wearing and is also in short supply within the textile industry, which means it can command a premium.
When it comes to farming these animals you will be pleased to know that they are self reliant and don't need dipping or dagging, however, they do need biannual vaccinations and worming. Their toenails are required to be trimmed and manicured every three months, and apart from all of the above, alpacas only really need the usual care and attention that you would offer any other livestock.
Though alpacas are gentle animals, they are not timid and will confront predators which threaten the herd. In fact, male wethers are often used by sheep farmers as guard animals to protect their herds from predators.
How to birth and raise alpaca
You can begin to breed female alpacas when they reach eighteen months old. You will need to watch the cria births so that you can monitor both the alpaca mother and baby to check they are healthy. However, you will be glad to hear that these animals tend to only ever birth during daylight.
Watch the mother and cria during their first day together. See how the mother handles her young, make sure that nursing is successful and that the cria is attempting to stand up and walk about. If for any reason the cria does not get the milk it needs you will need to replace it with colostrums or milk from a goat, cow or llama.
If the alpaca mother is unwell or in distress after the birth of her baby then you must bottle feed the cria. And, if nursing continues for less than four to six months then you will have to supplement the cria's diet with milk.
Remember you should intervene as little as possible when you raise alpacas. The cria's mother should look after the baby well; it is only under extreme circumstances that you should become involved in the alpaca baby's care.
If you want another cria within the year then you can breed your mother alpaca after two months of the birth.
The gestation period of an alpaca is eleven months so you will need some patience when waiting for your little cria to arrive. Alpaca farming is particularly delightful when you have little ones about. You will need to shear your alpaca in the summer months in order to keep them cool and comfortable.
Each alpaca will need to eat about three pounds of food each day so keep lots of alpaca food and supplements in store.
Articles