What to do before you start up your tractor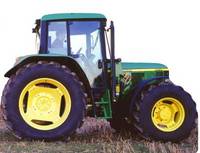 Before you start driving your tractor, it is important that you understand how the piece of machinery works and what precautions you should take during its operation. In order to avoid any unnecessary hazards, it is important that you know exactly what you are doing before you start your tractor. For advice on how to start a tractor the correct way, check out the following tips.
Checks
First of all, before starting a tractor you should carry out essential safety checks. Ensure that all of its instruments appear in good condition and the tyre pressure is correct. Make sure oil, fuel and radiator fluid levels are all correct.




Wear the right kind of attire to start a tractor. Loose clothes are not appropriate at all. Things like scarves could get caught up in the machinery somewhere and this could be very harmful to both you and the tractor.




Before you start a tractor, read the manual thoroughly for any specific technical information to your particular tractor. Make sure you know everything about the controls and meters. Check that all attached components are secure and working properly.




Next, before starting a tractor, adjust the seat for your height and size. Any other instruments that can be adjusted should be done too so that you are fully comfortable and not having to strain to do anything. The more comfortable you are, the safer you will be. Clear the surrounding areas of people or objects.
You are now ready to start a tractor engine up.
Articles