Using a Lawnmower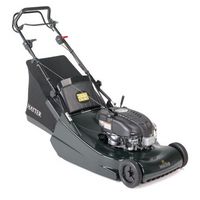 Knowing how to use a lawnmower is essential for most people, there are many different types of mowers from electric 'flymo' types to self driven petrol ones. This guide outlines the basics of lawnmowers and how to use them.
Electric Lawnmowers
Electric lawnmowers are a lot cheaper to produce and therefore to buy than petrol lawnmowers which makes them a lot more common. Most small gardens only require an electric mower to keep the grass at a suitable length.


The flymo type electric mowers produce a lift effect when the blades spin (like a helicopter) which lifts the body of the mower off of the ground. These mowers are very easy to use and cut the grass at the same length all over.


There are some electric mowers that are similar to petrol mowers with wheels and roller. The electric motors are not as powerful as a petrol one but they are a cost effective way of cutting larger amounts of grass. They often don't have drive so they need to be pushed, they are however adjustable to change the length of the grass.


All electric mowers require an extension cable and you should always use a circuit breaker to make sure you don't get electrocuted in the event that the cable gets cut.


Electric mowers are often powered by a trigger or button and turn off once it has been let go for safety reasons. Often it is just a case of moving the mower over the ground in any direction until it has all been cut.
Petrol Lawnmowers
Petrol lawnmowers are much more expensive to produce and consequently are a lot more to buy, they are usually however built to a much higher quality and last a lot longer. They are also capable of cutting much thicker grass and produce better results.


These mowers nearly always have 4 stroke engines and blade sizes from 16" up to 24". Expect a good quality 24" mower to cost well over £1000. Because of their size and weight, they nearly always have drive built in and feature either 4 wheels or two front wheels and a rear roller to produce a stripe on the lawn.


It is possible to cut much larger amounts of ground in less time than it is with an electric mower without needing a very long extension cable. Petrol mowers however are not recommended for smaller gardens, especially large mowers as they can sometimes be cumbersome to move around in small spaces.


Petrol mowers differ in their operation. To start them however they are mostly the same. You will need to put the choke on and pull the pull chord. Once the engine is started, take of the choke and put the throttle to maximum. Some mowers allow you to have the engine running without the blades spinning, others however have the blades spinning constantly as long as the engine is on.


To use a petrol mower, it is best to go up and down the ground in lines, this will ensure nothing is missed and will also put a stripe onto the grass (roller mowers are better at this).
Articles