Useful plough information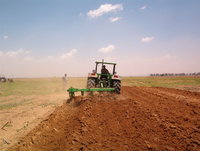 Ploughs are used in farming for the initial preparation and cultivation of soil to make it ready for sowing seed or planting. The plough has a huge history and has been used in agriculture for thousands of years. Ploughs turn over the upper layer of soil which brings fresh nutrients to the surface.
As well as bringing nutrients up it buries weeds and previous crop remains. Then, once they have been buried, these previous crop remains and weeds can break down and add more nutrients back into the soil.
Ploughing also aerates the soil so that it can hold in moisture more effectively. In more recent years ploughed fields are left to dry out and then harrowed before any planting takes place.
History of the plough
Ploughs were initially pulled by humans, however, animals were utilised early on to make the process far more efficient. The first animal powered ploughs were towed by oxen and then later on, in many areas, horses were utilised - these horses were generally draught horses. Various other animals, however, have been used in towing ploughs - including mules.
In more industrial countries, steam-powered ploughing engines or steam tractors, were used to pull ploughs, however, they were then gradually replaced by tractors that were powered with the internal-combustion-engine.
In recent years the use of ploughs has decreased in some areas due to the increased amount of soil erosion. It is also thought that shallower forms of ploughing and less invasive tillage techniques are better.
Modern ploughs
Modern ploughs are usually multiple reversible ploughs which are mounted on a tractor. These newer ploughs have between two and seven mouldboards. You use the tractor's hydraulic system to lift and reverse the plough, as well as adjust the depth and furrow width. You have to set the draughting linkage from the tractor so that the plough travels along at the correct angle once in the soil. If you have a modern tractor then this can be controlled automatically. You can also attach ploughs to the front of tractors in addition to those on the rear.
Specialist ploughs
There are a number of specialist ploughs that can be used for more specific purposes. Here are three types of specialist ploughs that could be of great use to you.
Chisel plough – Common plough used for deep tillage with as little disruption to the soil as possible. This is used to aerate the soil while leaving crop residue on the surface. This plough will not invert or turn the soil; this is an attempt to minimise erosion. For these reasons the chisel plough is often seen as very sustainable.
Ridging plough – This type of plough is used for crops like potatoes which are grown on ridges of soil using the tiling technique. A ridging plough uses two mouldboards that face in opposite directions to cut deep furrows with high ridges on either side. The benefit of this plough is it can be used to split the ridges to harvest the crop.
Mole plough – This plough is sometimes called the subsoiler and allows drainage to be installed without trenches. It breaks up impermeable soil layers that stop drainage. This plough is very deep and leaves a deep channel underground.
Articles