Trailer parts guide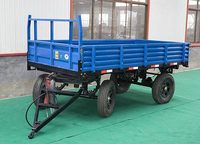 If you are looking for trailer parts, this guide provides information on how to find spare parts for your trailer. To discover which spare parts are available for trailers, read the guide below.
Trailers: Spare Parts to Consider
If your trailer is in need of major maintenance, you may need to consider a large number of replacement parts – these can include brake cables, brake linkage, coupling spares, grease caps, bearings, hubs and general components.
Security can also be an issue with trailers – particularly so if you are handling expensive farming machinery and equipment. If you harbour strong concerns about security, effectively accessories you can buy include coupling locks, wheel clamps, security posts and chains.
Take some time to consider the issue of suspension. For safe driving with the trailer, considering the suspension is vital. Replacement drums, bearings, brake parts, cables and leaf springs can all help improve suspension.
If you are looking for replacement parts to counteract towing and coupling issues, spare parts for these concerns include spring assisters, stabilisers, towing mirrors, extension leads, sockets, tow balls, unbraked couplings and braked couplings.
Finally, over time a trailer will naturally begin to show signs of wear and tear. Give your trailer that extra bit of protection, and shield any items being transported by purchasing a trailer cover or tarpaulin and considering mudguards.
Articles