Top tips for driving with a trailer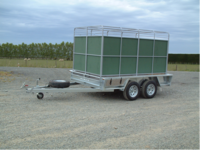 If you tow a trailer you have a responsibility to other road users to use it safely. If a trailer is involved in an accident it can cause havoc so it is important you know how to use it. So, we thought that we would offer you some words of advice as well as some speed limit information to help you out.
Before you set off with your trailer attached, read through this guide closely and make sure that you are completely aware of your limitations as well as the potential risks that come with driving with a trailer on the back of your vehicle.
Drive within the trailer capabilities
Drive to a speed that is within your comfort zone and which is appropriate to road and weather conditions.




If your trailer starts swerving then you should ease off the accelerator. Do not brake suddenly.




Never brake sharply on a bend as this could lead to a jack-knife situation, reduce your speed before the bend and change down a gear; then you can gently accelerate out of the bend.
Trailer speed limits
30mph limit applies on all roads with street lighting unless signs show otherwise.




50mph applies to single carriageways.




60mph applies to dual carriageways and motorways.




If a motorway has three or more lanes make sure you remember not to drive in the right hand lane.
Reversing with trailers
Make sure you take special care when reversing a trailer. You must look more carefully in case of pedestrians passing behind.




Remember that depending on how your trailer is hitched your trailer might reverse the opposite way to your car.
Articles