The dos and don'ts of using a potato harvester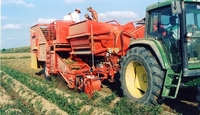 Potato harvesters do exactly as their name suggests - they harvest potatoes. They do so by lifting the potatoes from the bed using a share. The soil and crops are then transferred onto a series of webs. These webs then sieve all of the loose soil out and the potatoes are transferred towards the back of the machine
.
Once at the back of the harvester, the potatoes are transferred onto a separation unit and then onto a picking table. Then, you handpick the stones, clod, and any other debris and the potatoes are then transferred onto a side elevator and into a trailer or potato box.
These machines, however, can be very dangerous and therefore should be operated with great care.
Key dangers of a potato harvester
Getting caught in haulm and the cleaning rollers.




Getting caught in the conveyors or elevator chains of the potato harvester.




Getting trapped by the drive mechanisms.




Getting run over.




Falling off of potato harvester ladders and platforms.




Getting wrapped around the power take off shaft.
What to do when working around potato harvesters
Make sure all the people that are working on and around the machine know what they are doing and have understood all the safety instructions.




Check all of the haulm, clod and cleaning rollers are correctly guarded. You should fit more guards if anyone can reach the rollers with their arms or legs. If you need guard kits then contact the manufacturer of your potato harvester.




If you are reversing you must take particular care that you can see everything behind you. If your view is obscured seek some guidance




Remember that if you put the PTO out of gear it won't stop all of the power to some hydraulically driven parts.




Make sure any employees that might be working near the machine are properly trained.




You should fit an alarm on the platform. It is also a good idea to figure out a system for communicating between the platform and the tractor driver.




If you are going to carry out any work on the potato harvester, remove the key from the ignition.




Stop the engine before anyone tries to clear out a blockage.




If anyone needs to get on or off of the harvester you must stop the tractor.
Things NOT to do when working on a potato harvester
Do not reach inside the potato harvester unless everything is switched off.




Never climb over harvesters.




Do not jump on and off of the harvester when it is moving make sure you stop the tractor first.




Never carry out maintenance with the tractor engine running.




Do not park or carry out maintenance under overhead power cables.




Never run the potato harvester with the guards up or removed.




Children should never be allowed anywhere near the potato harvester.
So, there you have it, if you follow these instructions carefully then you will be able to ensure that you operate your potato harvester properly and safely. This means that you won't end up with any serious injuries or accidents occurring on your farm.
Articles