Tedder parts guide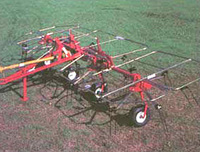 Tedders are a very important pieces of machinery in the hay producing industry. They are used after the hay but before it has been windrowed to spread it out evenly over the ground so that the sun can get to more of it and then dry it out quicker and better, thus increasing the price. As with all machinery, there will be a time when some of the tedder parts will need replacing.
Here at Farming Ads we offer plenty of advice and information on farming equipment. For more information on how a tedder works, head over to our complete guide on how to use a tedder effectively.
This guide outlines some of the most common tedder parts and how to go about finding them.
Spare tedder parts
The part of the tedder that takes the most stress and strain is the drive system. Older tedders were driven simply by movement from the tractor (or even horse) but more modern ones feature drive taken from the PTO on the tractor. This present all the usual possibility of breakdowns such as replacement oil seals and bearings. Proper maintenance will ensure that your tedder lasts for years.
The most common replacement parts that you are likely to need are the hook tines. These are the parts of the tedder that are spun around and physically spread the hay out over the ground. Through years of use they will inevitably become damaged and need replacing. Any good farming machinery supplier should be able to provide you with spare tedder parts.
Some of the more modern tedders feature multiple fastening points for the tedder so that it doesn't sway and slalom whilst in use. Parts of the tedder like this often take extra strain so make sure that these are kept in good condition.
Other parts of the tedder that may need replacing are consistent with most farming machinery. Things such as bearings for the wheels and moving parts become worn and break over time, replacing these will help the efficiency the tedder dramatically. Oil seals need to be kept in good condition so that they don't leak oil and contaminate the hay.
Articles