Spreader parts guide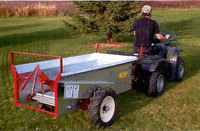 Regardless of the type of spreader you have (grain or fertiliser etc.) there is a good chance that at some point you will need to buy some replacement spreader parts. Spreaders can be quite simple or very complicated depending on their application. This guide outlines some of the common spreader parts that you may need to replace at some point.
Replacement spreader parts
Smaller spreaders (especially those meant for seed or feed spreading) are often activated by the weight of the grain in the hopper on top of them or by the movement of the wheels. If the latter is the case, keeping the moving parts greased and free will make the grain spreading much more efficient and effective.
Large fertiliser spreaders work in the same way as their smaller counterparts. The spreader attachment itself may need replacing at some point because they can get clogged and damaged with year's worth of use.
Other spreader parts that may need replacing include the axles and the cogs that drive the spreader. They can become worn over time with continued use. These are very easy to replace and spare spreader parts can be easily obtained from most farm machinery outlets.
The tyres on the spreader can become damaged and perished with continued use. Farm machinery often has to endure some quite harsh conditions and treatment and spreaders are no different. The rubber tyres can perish in the wet and/or cold and become deflated. They need to be able to move over rough terrain and still spread the contents of the hopper so tyres in good condition are essential.
Articles