Plough parts guide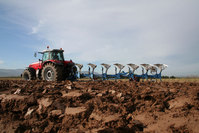 If you are looking for plough parts, this guide provides information on how to find spare parts for your plough. To discover which spare parts are available for ploughs, read the guide below.
Ploughs: Spare parts to consider
Broadly speaking, a plough can be separated into nine main sections, although modern advances in technology make the 21st century plough look very different in comparison to the plough model traditionally used in farming down the centuries.
Main plough parts include the frame, the three point attach, the height regulator, the knife or coulter, the chisel, the share or plowshare and the mouldboard. On most modern ploughs, the mouldboard tends to be separated from the share and the runner, so this particular part may not need replacing – check your individual model to decide the extend of work needed to ensure the plough functions effectively.
Other essential spare parts that may be required include a new frog, landside, shin, trashboard and, of course, the handles. Check the plough parts that make contact with the soil regularly, as these parts will be the first to show signs of general wear and tear.
Finally, some of the major manufacturers of parts for ploughs include Besson, Dowdeswell, Huard, Lemken and Kverneland.
Articles