Mower parts guide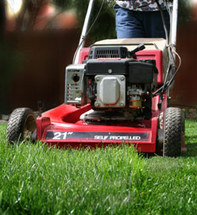 As with any mechanical machinery, mowers can go wrong and will need spare mower parts. Lawnmower parts are generally quite easy to get hold of and any garden machinery business will be able to source and fit them for you. This guide outlines some of the major mower parts that may need replacing.
The engine
The majority of petrol lawnmower engines are single cylinder, four-stroke units with a power output of anywhere between 2 and 7hp. Depending on the model of lawnmower and the spec of the engine, they can cost several hundred pounds and sometimes it is not worth replacing the engine and simply buying a whole new mower.
The blades
A lot of lawnmower blades will not last forever and depending on how much the lawnmower gets used, will quite likely need to be replaced at some point. This is a very easy job for a trained mechanic and will probably be fairly inexpensive. Replacement blades are one of the easiest spare mower parts to get hold of and prices generally hover around the £30 mark. A lot of times, having the existing blades sharpened will make the mower feel like new again.
Cables
Mowers suffer from a lot of repeat usage, such as constantly engaging and disengaging the blades. This inevitably causes the clutch and throttle cables to wear and eventually break. These are inexpensive to replace and can be fitted by a trained mechanic in a short amount of time.
Other mechanicals
Occasionally, things such as the gearbox and differential will need replacing. These sorts of spare lawnmower parts are available direct from the manufacturer and will need to be taken to a registered dealer to be fitted and replaced.
Regular servicing will keep any lawnmower in good condition and useable for many years. Making sure that there is plenty of oil in it and correctly lubricating the moving parts will help to prevent wear and tear. If the lawnmower runs out of oil it can seize the engine, which will cost several hundreds of pounds to fix (if even possible) and it is often easier to buy a new lawnmower.
Articles