Logging equipment safety advice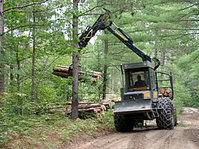 Unfortunately, accidents are pretty common when using logging equipment, and they can often lead to injuries and sometimes even fatalities. People are often crushed by falling objects. but other injuries and accidents are also common.
It is well worth making sure that you have all of the correct training required, in order to be able to safely use your logging equipment. You must always be sure to use the correct equipment and machinery and be confident in your ability to use the tools properly. If you are even slightly unsure how to use a certain tool, you should stop and seek assistance from someone with the required skill set.
Avoiding accidents when using logging equipment
Logging is dangerous and you must respect the risks involved in order to avoid accidents. You should always evaluate your working area for hazards and come up with a plan of action as to how to avoid any of these hazards.
When it comes to stationing yourself, you will want to ensure that you are at least two tree lengths away from the nearest cutting zone. When you are required to enter a cutting zone, you need to make a note of the slope of the land, the wind conditions and any other signs of loose bark, broken limbs or other tree damage. Remember, most of the injuries occur when an individual is hit by falling branches or debris. So you need to be extra careful when in a cutting zone.
It is always worth evaluating each tree individually and working out its falling path as well as any other potential problems before cutting. You should ensure that you never work downhill from a cutting area, as trees or branches can slide or roll down a slope after they have been cut.
Equipment and tools
When you are using logging equipment and tools, you should always follow the manufacturer's instructions. It is also vital that you only use tools and equipment to carry out the jobs for which it was designed. Maintaining your equipment is also wise as this will not only mean it lasts longer, but it will also help prevent accidents. Where necessary, you should always look to repair or replace machinery, when it is faulty.
If you are operating mobile logging equipment then you should always be careful. If you are working with trucks, skidders or loaders then you should always wear your seatbelt, and never allow any colleagues to grab onto the equipment for a ride. It is also worth making sure that any trucks or loaders are fitted with an appropriate roll bar or guards to protect against falling objects. And, you should always remember that piles of logs can be unstable, so you should take great care around loaded vehicles.
Protective clothing
Protective clothing is vital when operating any machinery, and logging machinery is no different.
You should always wear gloves to protect your hands and a hard hat is also a must! You should ensure that your hard hat has a chin strap and you should also make sure you wear goggles or a face shield.
Earplugs or earmuffs are important to protect your hearing, however, you must stay alert and keep an eye out for emergency signals. As well as all of the above, you should also ensure that you are wearing steel toed shoes with a supportive ankle, in order to protect your feet.
Always remember that while your job is obviously very important, your safety is more important.
Articles