How to use forestry machinery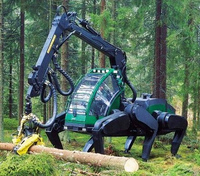 There are lots of different types of forestry machinery you could choose from. Different types of forestry machines are appropriate for different tasks. Some are useful for cutting down trees and others help you with the disposal of any natural materials that you have chopped down.
Here is a brief rundown of some of the more common pieces of forestry equipment that are often used by farmers in the UK.
Chainsaw
Many farmers will use chain saws on their land whether that be for removing any trees that are in the way, or simply to trim down some trees to make them smaller and easier to maintain. Chain saws were invented in 1961 and have lots of different uses. These pieces of machinery can be used to trim branches off trees, or, they can be used to fell whole trees.
As with most heavy machinery, it is vital that when you are using a chainsaw you wear all of the appropriate and correct equipment. Chainsaws are dangerous forestry machines and you should always be wearing safety trousers, gloves, steel capped boots and helmets with ear muffs.
Harvester
If you are doing some serious forestry and cutting down large trees then a harvester is probably the machine for you. This forestry machine grips the standing tree and cuts through the base of the trunk with an automatic chainsaw. The tree is then laid on the ground and pulled through the harvester's felling head.
There are knives in the felling head that cut off all the branches. The harvester has an onboard computer which will then measure the length and diameter of the log, the computer will then work out the length to cut the logs to. If you have a harvester you can fell 400 tonnes of wood per week this is a lot faster than a man with a chainsaw. If you are considering buying one of these impressive machines then you should expect to shell out at least £250,000.
Forwarder
Once you have all of the logs cut you will need to transport them out of the forest. This is where a forwarder comes in; this piece of machinery is used when ground conditions are unsuitable for horse loggers.
Horse Logging
Some forests are positioned on extremely steep hills; if the ground is particularly steep then some large machines will not be able to negotiate forest. If the forest is protected for its wildlife then large equipment is not appropriate as it can be very damaging. For both of these reasons sometimes horse loggers are required. more than 30 horse loggers are working full time in Britain today; it is interesting that today's loggers are returning to yesterdays forestry machines.
Articles