How to use a tedder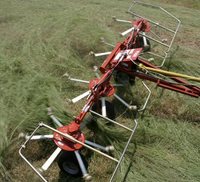 A tedder is a machine that is used in haymaking. They are used after the hay has been cut, and before it is put into windrows. The tedder is used for spreading the hay out on the ground, enabling it to cure better allowing the sun access to more of it. This allows more of the moisture to evaporate.
The original tedder was a farm tool that worked on two wheels and was pulled by a horse. The rotation of the axle drives the gear which operates a "number of arms with wire tines or fingers at the lower ends". These tines the pick up the hay and disperse it.
Modern hay tedders are not much different than those that were designed to be used by a man and a horse. A modern tedder is much larger and is attached to the bag of a tractor and towed over freshly cut hay.
Before you use a tedder you must undertake the basic safety checks you would with any piece of farm machinery. Some hay tedders are operated simply by the movement of the wheels from being towed by the tractor but other types of tedders are driving by the PTO of the tractor. Make sure that this is correctly attached and all the pins used to secure it are correct as well as making sure the towing hitch is attached correctly.
When driving the tractor with the tedder attached, you will need to go at a slow enough pace so that the tedder does it's job correctly. Most tractors have a hand operated throttle that allows you to easily keep up a constant speed.
Modern tedders are designed to prevent the hay getting caught up around the machine, stopping it from working correctly and possibly even damaging the tedder. Even if you are using a modern tedder it is best to stop periodically and check that the tedder isn't clogged up.
Although the tedder is designed to speed up the process of drying and therefore producing hay (up to 5 days in some cases), it is best to do the tedding when there is a bit of moisture on the hay as this will prevent it breaking so much. The morning is the best time to use the tedder as the hay will have more moisture in it.
The decreased drying times of the hay means that it is possible to cut the hay while it is still green, producing a better crop and therefore earning you more money.
When you are using a tedder it is important to remember that the tedder may well be wider than the tractor and go through the normal protocols of making sure that it both parts of the rig can fit through any gaps.
Articles