How to use a planter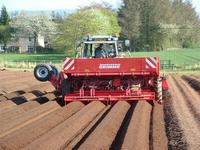 For centuries farmers have been planting manually with their hands. However, we now have agricultural planters which can sow seeds for a variety of different crops. These pieces of equipment are similar to grain drills in that they are towed behind a tractor and used to sow crops through a field. You connect the planter to the tractor with a drawbar or a three-point hitch.
Planters are able to lay the seed down in a precise manner in neat rows distributing them through devices known as row units. This are spaced evenly along the planter making them able to distribute the seeds evenly.
These pieces of machinery can vary greatly in size from two rows, right up to the huge 48 row models. The space between row units also varies greatly.
When it comes to the smaller models, or the older ones for that matter, a marker extends out to the side. It is usually half the width of the planter and it creates a line in the field where the tractor should be centred for its next pass.
On larger and more modern models, the tractor can be positioned correctly using GPS navigation and auto-steer systems, eliminating the need for a marker. Some of the more hi-tech, precision equipment can sow seeds to a precise position within 2cm.
The older models will tend to have a seed bin for each row and a fertiliser bin for two or more rows. Then, within each seed bin, plates are installed with a certain number of teeth spaced accordingly depending on the type of seed to be sown and the rate at which they should be planted. Modern planters will more often than not have a large bin for seeds that are then distributed to each row.
Advantages of planters
There are, obviously, a number of great advantages to using planters. Here are some of the main benefits to using these pieces of agricultural machinery.
Row to row spacing facility

Fertiliser metering system

Plant to plant spacing facility

Seed dropping facility

One farmer can perform the task of 20 men with a planter

Saves time and money

You can plant multiple crops with the same planter
If you are interested in obtaining an agricultural planter then why not take a look at the models that are available on Farming Ads? To browse planters on Farming Ads, click here.
Articles