How to use a harvester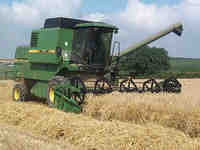 Harvesters are pricey pieces of farm equipment that can be complicated to use. Newer models are much simpler to use than the more traditional ones, but that is not to say that anyone can use one without having any knowledge. Before you can begin to use a harvester, it is essential to have training so you know exactly how to handle the machine. See the following advice for a guide on operating harvesters to harvest grain.
Prepare
First of all you need to ensure that your harvester is fully prepared for working the field. You can do this by checking the oil chains, tightness of the belt, grease bearing, and anything else listed in the manual's checklist.
Next, ensure that the harvester's battery and engine are in good order. When putting fuel in, only do so when the engine is cool. All of the safety measures and shields should be ready and your fire extinguisher full.
If you move your harvester to the field in a trailer, unload it once you get there. Be sure that the crop is actually ready to be harvested by checking the moisture conditions on the field. Attach the header to your harvester.
Check
Look around the field for any concealed obvious obstructions, ditches and obstacles that may get in your way. These could cause harm. Have knowledge of the crop's conformity to the ground's contour.
Harvest cautiously
Begin harvesting, making sure that the header control is working how it should while you move throughout your field. Keep a close eye out for debris or anything that could clog up the chopper or header. Check that the flow of the grain is smooth into the hopper.
Once your grain hopper is full up dump the load into a grain truck. Your harvester may work in tandem with a tractor that pulls a wagon for the grain. If this is the case then always be wary of the way the tractor is being driven.
Store
Once you are finished, give the harvester a once over, looking out for anything you think has been damaged and will need repairing. Put harvesters into suitable storage depending on local weather. A dry machinery shed is ideal for storing harvesters.
Articles