How to use a harrow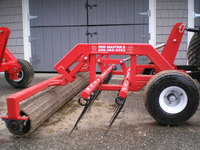 Harrows are used for cultivating surface soil. The harrow is used for a lighter turn over of soil whereas a plough is used for deeper cultivation. A harrow is usually used after ploughing and breaks up loose clods and lumps to give a finer finish.
Harrows give good soil structure that is suitable for planting and seeding. You can also make use of a harrow for removing weeds and to cover up seeds after sowing. This article will teach you a few basic facts about harrows and the different types that are available.
Types of harrow
Disc Harrow – typically used for heavy work in cooler climates such as following the plough to break up the sods.

Chain Harrow – used for lighter work such as levelling the tilth or covering seeds.

Tine Harrow – used to refine the condition of the seed-bed before planting. These harrows also remove small weeds in growing crops and loosen inter row soil to allow water absorption.
All three of these types of harrow can be used together in one pass to prepare the soil for seeding. It is very common to use two types of harrow for a variety of tilling processes. A roller is often added to the last of the set as harrowing makes the soil very light and easily blown away by the wind.
Harrows can vary greatly in weight depending on what they are going to be used for. Generally they are made up of a solid frame which has discs, teeth or linked chains attached to it. Tine and chain harrows are usually supported by a rigid towing bar at the front of the set.
Articles