How to use a grain dryer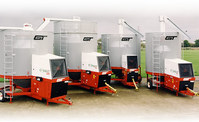 A grain dryer is a machine designed to dry grain; it really is as simple as its name suggests. Grain dryers are commonly used for corn and soybeans, they are extremely expensive bits of equipment and only a few farmers are privileged enough to have one. There are other options such as renting a grain dryer or even using the services of a farming cooperative.
Due to the costs of using grain dryers lots of farmers try their best not to use one. To avoid grain drying farmers will leave crops out in the field for as long as possible during autumn. There is a fine line between leaving the crop to dry out and letting it dry out so much that the crop begins to drop.
How a grain dryer works
Crop is loaded into the grain dryer; typically with the help of a grain auger.




Once the grain is inside the machine it is subjected to high levels of wind and produced by fans and heat given off by strong heaters.




Working dryers can reach up to boiling point in temperature.




After the grain has been dried it can be stored inside a grain bin or silo until it is ready to be transported.
If you are farming on a very large scale then grain dryers can be very valuable tools. Having a grain dryer means that the farmer can harvest the crops earlier; by harvesting earlier you can plant earlier and more money can be made.
Different crops have different moisture contents and if the grain isn't dried out then the moisture in the crops will rot and mould. If crops are not dried out properly and animals or humans consumed it then the mould and rot could be extremely harmful or even fatal in some cases.
Articles