How to use a forage harvester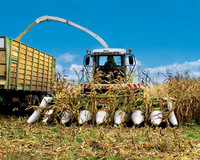 Forage harvesters are pieces of machinery that are used to clear silage from a field in order to give feed to livestock. Different types of forage harvesters operate in different ways. Some of them will cut up the silage and toss it into a wagon, some will cut it and blow the matter so that it is more consistent.
It is vital, when you are using these pieces of equipment, that you do so safely and properly. If you do this then you will carry out the job properly and efficiently and you will also do so without getting hurt.
Forage harvesters
First, make sure you read the manual. Too often, people think that they can use machinery such as forage harvesters straight away, without full knowledge. This is very unwise and could be dangerous. All brands will have different operating methods.




Be sure not to stand in front of the discharge spout when it is being used. This could put you in the firing line of silage material and cause injury.




Before you begin work on a forage harvester, you should make sure the engine is stopped. Making adjustments while it is on is never a good idea. Lower the header, take the harvester out of gear, and keep hold of the keys. It has been said that about half of the injuries sustained when using a forage harvester happen when performing cleaning and maintenance tasks.




The blades on most forage harvesters will have a self-sharpening feature. This means a reduction in work, but they can be dangerous if you are not careful in handling them. All nuts and bolts should be fully tightened before you operate the machine. Anything loose will cause problems.




Keep a tab on how much silage you build up in the tank/wagon. The centre of gravity will change as it becomes full and operating the forage harvester will be different – particularly when turning. Be sure not to go above the recommended level of silage.




Get rid of any debris or dust from forage harvesters on a regular basis. If you leave any plant matter within the machinery it could be a fire hazard. Cleaning out the forage harvester will prevent any potential problems such as this.
Articles