How to use a fertiliser spreader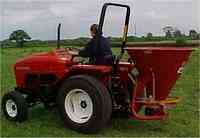 Fertiliser spreaders are used to apply fertiliser easily to a large area of land, saving you the back breaking job of having to do it all by hand. You should always ensure that you operate this machinery carefully and follow this guide accurately. That way, you will be able to ensure that you do a good job and don't get hurt in the process.
It is vitally important for your crops that you are laying the correct amounts of fertiliser, and these pieces of equipment ensure that you can do this with ease. For a guide on using a fertiliser spreader properly, see the following information.
Operating fertiliser spreaders
Bags of fertiliser should have their application rates on the label. These are normally calculated by ratios of nitrogen to the area you are fertilising. You should determine precisely how much area you want to cover and how much fertiliser will be needed.




Once you have decided on the area, put a marker on both edges of the width. This is where you will begin. Then, put a third marker after measuring the distance travelled from the starting point.




Weigh out the fertiliser levels needed. Now set your fertiliser spreader accordingly. Generally if you have high nitrogen, fine particles or dense particles, the settings should be less open; for larger particles or organic fertiliser, settings should be more open. If you are unsure, just set it half way.




Within your marked are, start to spread the fertiliser. Once you are done, and you find there is some left over fertiliser, close up the holes further. Do this depending on how much is left, eg. If half of the fertiliser is left, close the holes a further 50%. Then start on a new area and spread the fertiliser until you run out.




Should you run out of fertiliser before you are done, close the holes up more depending on how much land is left. Keep doing this until there is next to nothing in the fertiliser spreader.
As well as this advice, we also have a number of useful videos to help you with the maintenance and use of a fertiliser spreader. Check out these videos below to see how to attach a fertiliser spreader to a tractor as well as how to remove one. And, we also have videos on tractor requirements for the use of a spreader and how to maintain this piece of equipment. Enjoy...
How to attach a fertiliser spreader to a tractor
How to remove a fertiliser spreader from a tractor
What are the tractor requirements for a fertiliser spreader?
How to maintain a fertiliser spreader
Articles