How to use a cultivator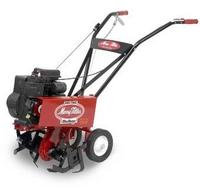 Cultivators come in different forms for a number of purposes. Depending on your individual needs, you will need to use a certain type. Cultivators are used to refresh soil ready for new planting or seeding of crops. For a guide on how to use a cultivator, see the following advice.
Types of cultivator
Rear-motor – This is used for light gardening and for cultivating between crops. It is easy to manage and handle.
Top-motor – For tough soils and work in fields that have not been used or worked on for years. The position of the motor on top results in tines being pushed further down into the ground.
Cultivators power options
Cultivators work in the same way no matter how they are powered: they dig metal tines into earth and rotate the dirt. There are two power options depending on your requirements.
Petrol – Most cultivators use petrol to run. This is normally better for deep field work and also in places where electric supply is not available.
Electric – Cultivators that run on electricity tend only to be used for smaller jobs, ideally for domestic gardens.
Start up
Locate the throttle (a lever on the handlebar) and move it so that it is about half an inch away from the off setting. Then move the power switch to "on". Now put the throttle to its lowest position, which should get the engine turning a little. If this does not happen then adjust the throttle screw accordingly so that it levels the engine out gently.
If you have an electric cultivator, you will just need to press the power button. For both kinds of cultivator, you will need to let the motor run for a couple of minutes so that it can warm up before use.
Rigid land
If you need to reduce the speed you can do so by turning the throttle towards the starting position. Be sure not to try and use too high a speed as this can easily lose control and cause harm. High speeds on small rocks can be extremely hazardous. Wearing protective gear such as safety glasses, rubber boots without laces, hard hats and leather/rubber aprons is always necessary.
Grasping the handles firmly, walk gently forwards with the cultivator. Be careful not to push it forward. When you need to turn, remember to reduce speed by turning the throttle lever. Only use the high speed setting when you are digging into soft soil deep.
Articles