How to use a combine harvester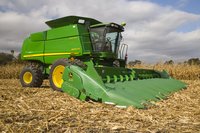 As one of the most expensive pieces of equipment a farmer will possess, it's essential to learn how to use a combine harvester appropriately. For advice and guidance on operating this vital farming accessory, read the information below.
Combine harvesters – A guide
Never take a combine harvester out into the field until you have made all the necessary safety and maintenance checks. Check the harvester is well oiled and ensure any loose belts are tightened before proceeding. Certify all parts of the combine harvester are in good working order and any parts showing signs of wear and tear are swiftly replaced. Before you head out, make sure all safety features are correctly in place.




Once you transfer the combine harvester into the field, carefully attach the header. Before you start the harvesting process, take a moment to consider conditions in the field. If both the weather and harvesting conditions are inappropriate, it's best to wait a while until both situations improve.




Learn the lie of the land. This will help you determine the best route in which to proceed around a field. Take into account any hidden dangers that could hamper the combine harvester; failing to avoid these could throw your whole harvesting plans into chaos.




As you begin to move along the field, check to make sure the header is attached properly and working effectively. Make regular checks over the grain – it should flow freely into the grain hopper. If there seems to be a problem, stop the harvester and inspect the ground; an obstacle could be blocking the grain.




Once the hopper has reached full capacity, you'll need to tip the collected grain into a grain truck. As soon as you finish the harvesting process for the day, inspect the combine harvester to ensure no damage has been sustained to the machinery. If any problems are immediately visible, it's vital to make adjustments as soon as possible.




Finally, never return the combine harvester to storage without making the necessary checks suggested above. The combine should be stored in a dry, accessible environment so you can return it to the field quickly at the time of the next harvest.
Articles