How to use a baler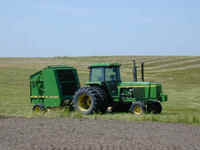 In order to feed animals nutritious hay, any good farmer needs to use a baler. Having the ability to store and compact hay helps save space and makes the feeding process easier to monitor. For more information on how to use balers, read this guide.
Balers information guide
The main purpose of a hay baler is to store fresh hay in bales so this feed type can be stored sensibly on a farm. A pick-up device is used to harvest the hay and transfer it into the baler. Once the hay falls into the baler, it will be pressed into the appropriate bale shape (usually round or square).




However, be warned – you'll need to use the baler at the right time of the year to get the best results. Wait until the quality of the grass seems at its best for baling and for when weather conditions are favourable. The baling 'season' can vary depending on weather patterns, so bear this in mind as you plan baling each year.




If the baler is not brand new, it may need some cleaning and repairs. Check the condition of the baler before you begin the process. Some parts of the baler may need greasing, while the belts may also need checking to ensure they have not become slack.




You'll need to check to make sure the hay is baled properly. Sometimes, particularly in wet conditions, the hay can seem a little clumpy. It's important to guard against this as the hay should have a crisp, fresh feel to make it appropriate for feeding.




If the baler becomes clogged up with hay as you negotiate a field, use the safety chocks to untangle the hay. Finally, take the relevant safety measures when you are using the baler, especially when it comes to reversing or negotiating a tricky slope.
Articles