How to use a bale accumulator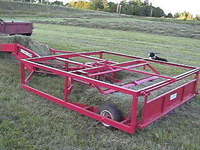 Bale accumulators are very useful bits of agricultural machinery and come in eight and twelve bale models. Bale accumulators are fully automatic as the bales work the mechanism.
As the bales fall into the bale accumulators the gates guide them into the correct position. Once the eighth or twelfth bale are in place the tailgate will fall open and release the packed bales. The gates will then shut and the process will begin again.
This is a brilliant and efficient way of accumulating bales. It allows the worker to reach maximum speed and allows the baling to be done in the best bailing hours of the day.
As the bale accumulator leaves the bales in flat packs it is then very easy to transport and handle. If you have a pack-getter bale grab this will also speed up the process.
Articles