How to drive a tractor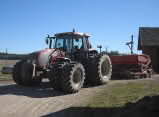 Knowing how to drive a tractor is a huge advantage to people who work in the farming industry or whose job means they have to cover big areas.
Driving a tractor can dramatically cut the workload of, for instance, moving bales of hay or straw around or ploughing a field.
This guide will outline the basics of driving a tractor on private land. You will need a full driving license and insurance to drive a tractor on the public highway in the UK.

Driving a tractor
Before you start learning how to drive a tractor, you must do some basic safety checks. Make sure the oil, water and air pressure levels are correct. Depending on the type of tractor, make sure you are wearing the appropriate clothes. If it is a tractor without a cab, loose clothing could get caught in any machinery.

When learning how to drive a tractor, make sure you know what all the controls do. Where the brake is or where the engine or equipment cut out is. You may need to stop a tractor in a hurry and you will need to know this.

The tractor and machinery should be in good working order. Driving a tractor that isn't safe is asking for trouble. Make yourself comfortable in the cab, make sure the seat is where you want it and that there are no obstructions around the tractor itself.

When you are ready to begin driving the tractor, take the handbrake off and press the clutch pedal down. Start the engine and put the tractor in to gear. To actually start driving the tractor, slowly release the clutch whilst simultaneously giving it some throttle. The tractor will start to move forward.

One of the biggest causes of human injury when driving a tractor is if the tractor rolls over. These are easy to avoid if you know how to drive a tractor carefully. Do not go on any steep embankments or slippery slopes, especially when first learning how to drive a tractor. If you always drive carefully and take your time you won't have any problems.

Once you've finished with the tractor. Let the engine idle for a few minutes to cool down before you turn it off. Engage the hand brake, press the clutch and turn off the engine.

You should never learn how to drive a tractor on your own. Tractors are very heavy and can cause serious amounts of damage should one get out of control. You will need someone with you to guide you through the basics of tractor driving.

Articles