Hedge trimmer parts guide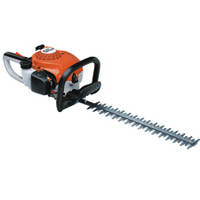 If you own a hedge trimmer it is quite likely that at some point it will need spare parts. These are very straightforward to find and they are often fairly inexpensive, spare hedge trimmer parts will need to be fitted by an experienced mechanic, both for the future safety of the user and to avoid any costly damage to the internals. This guide outlines some of the common spare hedge trimmer parts that you will require.
The blades
The blades are the most expensive thing that you may end up replacing on a petrol hedge trimmer. It must be noted however that the blades, with correct use and maintenance will last a substantial amount of time. Depending on the size of the hedge trimmer, these can cost upwards of £70. Hedge trimmer blades can be sharpened many times before they will need to be replaced. Because of their much lower cost, it is often easier to simply buy a new electric hedge trimmer than go to the effort of replacing the blades.
The gearbox
The Gearboxes used on petrol hedge trimmers may well need to be replaced or overhauled, especially on a hedge trimmer that has seen some use. The teeth of the gears will become worn over time and the oil seals will start to perish. It is vital that the gearboxes on hedge trimmers are kept topped up with oil so any leaks will increase wear on the gears.
Quite often it is only the internals of the gearbox that will need overhauling and servicing. A full service of your hedge trimmer at a workshop will include this. Replacement gearboxes can vary in price with used units fetching £60-70.
The engine
Although the engine itself is unlikely ever to be replaced (simply because it is much easier to buy a replacement hedge trimmer) there are hedge trimmer parts available that are available for use in the engine and they can make a difference to the life and efficiency of the hedge trimmer.
After a few years you may well have to change the spark plug or the ignition coil, which is a fairly cheap and straightforward job. Prices for coils start at around £20 while spark plugs cost a matter of a few pounds. You may also need to replace the throttle cable as these can become worn with extended use, these are very cheap, if a bit fiddly to replace.
With regular (yearly) servicing and careful use, there is no reason why your hedge trimmer won't last a very long time. The spares market generally exists for petrol hedge trimmers as the electric ones are easy and cheap to produce and therefore replace.
Articles