Harvester parts guide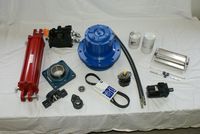 Harvesters are so important to the running of a farm. They cut down the amount of time harvesting would take by hand and save the farmer costs of workers. Harvesting is very important and has to be done correctly at the right time.
If you use harvesters a lot then naturally harvester parts are going to wear out eventually. This article lists some of the more common parts that can require replacing.
If you need spare parts then you should be able to get them from agricultural machinery stores or you can always order them online. Always keep an eye out on Farming Ads as there are some spare parts that appear which might prove useful to you. Here is our brief checklist of certain parts that you should keep an eye out for.
Commonly replaced harvester parts
Articles